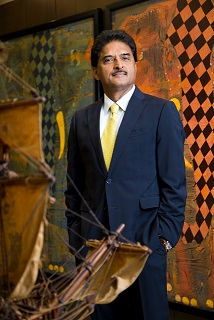 Pioneering logistics for over two decades, he leads India's biggest integrated logistics services provider and global LCL consolidation leader.
Shashi Kiran Shetty, Chairman, Allcargo Logistics, ECU Worldwide and Gati, is a man driven by deep-rooted core values. He ably steers the group to offer a gamut of logistics services and generate revenues of approximately USD 1.2 billion.
Allcargo group, today, operates in over 180 countries through more than 300 offices, employing more than 10,000 team members.
Mr. Shashi Kiran Shetty has also been appointed by the Ministry of Education, Government of India, as the Chairman of the Society and Board of Governors (BoG) of the IIM Mumbai, India's premier and only institution offering post graduate courses in Industrial Engineering. During a 4-year long tenure from 7th November 2020, he endeavours to make a mark in a field that is truly close to his heart and bring in a global, digital and entrepreneurial perspective that will help take IIM Mumbai to greater success in India and the world.
Born in the southern city of Mangalore, Mr. Shetty started as a trainee in a shipping agency, in Mumbai. He then worked with a logistics company owned by the Tata Group. When entrepreneurship beckoned, he started Transindia in 1987 to ease operations at the Mumbai Port. This later got merged into Allcargo Logistics which was formed in 1993.
With his foresight and vision, Mr. Shetty identified opportunities for Allcargo to grow organically and inorganically. Well-timed with changes in business landscape, Allcargo ventured into Container Freight Stations, Project Logistics, and Contract Logistics. It also leveraged ideal opportunities to enter Express Distribution, First and Last Mile Deliveries and Pick-up and Logistics Parks businesses.
In less than a decade, Mr. Shetty spearheaded more than 10 successful global acquisitions. Significant among these was Belgium-based ECU-Line (now ECU Worldwide) whose revenues were almost five times that of Allcargo Logistics. Acquiring She Maritime, UK; China Consolidators, Hong Kong; FCL Marine Agencies, Netherlands; Econocaribe Consolidators, USA; expanded the group's global footprint. In India, the acquisition of companies continued with Hindustan Cargo and MHTC Logistics. Allcargo then forayed into Contract Logistics through a new entity, AvvashyaCCI, formed by acquiring controlling stake in CCI Logistics, India. In a Joint Venture with Container Corporation of Indian (CONCOR), Allcargo operates a facility at Asia's largest ICD at Dadri.
Allcargo's latest strategic acquisition in the Indian logistics space is Gati Ltd., in 2020. It is a publicly traded company; India's largest and a pioneer in express distribution. Astute financial planning and highest standards of corporate governance are non-negotiable for Mr. Shetty. According to him, the right balance of promoters and seasoned, professional leadership is the key to success.
A belief in the potential of the youth drives Mr. Shetty to focus on developing and mentoring young leaders. Under his guidance, Allcargo has implemented a Management Trainee programme and continues grooming Hi-Potential employees into leaders for the gen-next.
The Allcargo group has a blue print to develop and grow its business through a well-thought-out, researched digital play. Partnering with a leading consulting firm will help the group navigate digitisation which is set to have a huge impact on business. This will help bolster success in an evolving and ever-changing business landscape. Mr. Shetty's son, after graduating from one of USA's prestigious institutions, has taken on the mantle of driving business as one of the young, dynamic leaders of the organization. He has successfully brought together a well-equipped team that will now drive implementation of ECU360, our state-of-the-art digital platform.
Belgium's highest civilian honour – 'Distinction of Commander of the Order of Leopold II' by H.M. King Philippe was bestowed on Mr. Shetty in 2015. The 'Lifetime Contribution to Freight Award' at the Global Freight Awards, London, 'Entrepreneur of the Year' in the Services Category by Ernst & Young, 'Global Visionary' at the Economic Times Family Business Awards, 'Global Indian Maritime Personality' by the Maharashtra Chamber of Commerce, Industry and Agriculture, 'CEO of the year with Best HR Orientation' at Asia's best Employer Brand Awards are some of his other national and international recognitions. The University of Mangalore has conferred him with an 'Honorary Doctorate' for his remarkable professional achievements as well as for his philanthropic contributions.
Mr. Shetty keeps pace with changing times and believes in constantly updating his knowledge and skills. Over the years, his urge to learn has seen him participate in Owners Management Programme of Harvard Business School and many others.
Mr. Shetty's active involvement in industry forums and associations is testimony to his collaborative approach. He regularly fosters information exchange and industry interactions through membership and participation across platforms like WEF, CII, AMTOI, ASSOCHAM, and more.
A sense of duty and responsibility towards social good is the force behind Mr. Shetty's philanthropy. He is involved in initiatives of Avashya Foundation, Allcargo's CSR arm and supports all social welfare activities.
Mr. Shetty is a sports enthusiast and an art aficionado.
Mr. Shetty is humble, helpful and always approachable. He lives a simple life.