About the Committee
An Institute has its reputation established on the achievements of its alumni, faculty and students. This is exactly the reason why IIM Mumbai has the kind of reputation it possesses. Serving the nation for over 50 years as a top institute, IIM Mumbai flaunts one of the richest bases of alumni network in India. Alumni network helps IIM Mumbai to remain agile and responsive to the needs of the market through the interactions between Industry and Institute.
The IIM Mumbai Alumni Student Committee strives to develop connections among alumni, current students, faculty and management laying the platform for all stakeholders to share knowledge, gain focus, improve and develop. We offer services that stimulate interaction and maintain support mechanisms for Alumni networking. Alumni Committee facilitates continued interaction of Alumni with the Institute in interest of sustaining the Institute's ability to maintain a commitment par excellence.

Roles & Responsibility
Organizing 'Sansmaran'- Annual Alumni Meet
Organizing Regional Alumni Meet
Organizing Induction Session during "Abhisanskaran"-Orientation Program of first year students
Maintaining and updating IIM Mumbai alumni website
Content, design and publication of annual alumni magazine "ALUMNITI".
Accommodation booking for alumni at MDP Guest House
Maintaining and updating alumni database
Mentorship Programme in January-March
Organizing 'Alum talks' regularly
Updating various events organized in IIM Mumbai on Social Media to reach out to Alumni
Maintaining IIM Mumbai alumni LinkedIn account
Events Organized
Sansmaran
SANSMARAN"- literally meaning reminiscence is the vantage point for the alumni. It is a platform for the alumni across the Globe to reconnect with their alma mater. A one-day event at IIM Mumbai, which includes Alumni Interaction, Annual General Body Meeting, felicitation of distinguished alumni and the release of 'AlumNITI'- the annual magazine of IIM Mumbai Alumni Association. Conducted during the month of November. Sansmaran is all about:
To relive memories of their enriching days at IIM Mumbai
To reconnect with their alma mater.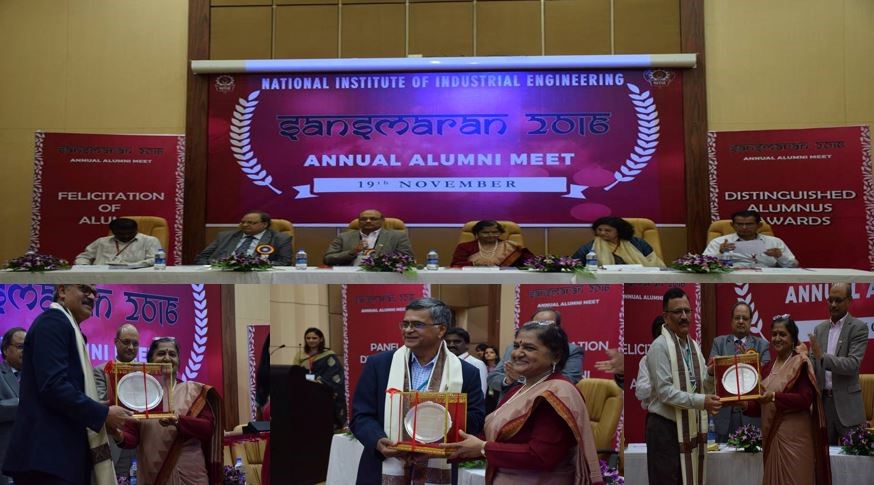 It is a one day event which consists of various programs such as
Distinguished Alumnus Awards
CEO conclave
Annual General Body Meeting
Industry talks with hundreds of IIM Mumbai alumni attending from all over the globe each year
Cricket Match
Campus Tour
Cultural Evening
Sansmaran 2016 was organized on 19th November 2016 at IIM Mumbai, Mumbai.200+ Alumni were part of Sansmaran 2016
Sansamaran 2017 is scheduled on 11th November 2017.
Regional Alumni Meet (RAM)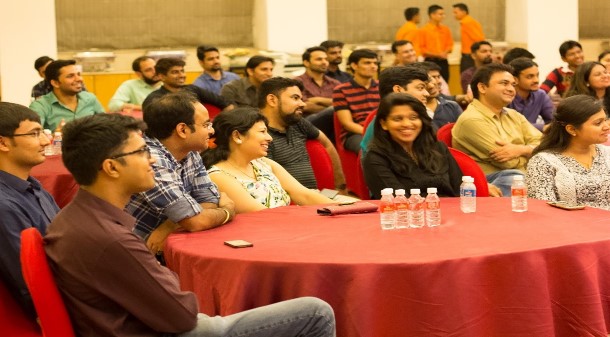 "Regional Alumni Meet (RAM)" – event organized in major cities across India for Alumni Interaction. Conducted during the months of April & May.
RAM was organized in the following cities during the month of April-June 2017
Mumbai RAM, IIM Mumbai,Mumbai
Delhi-NCR RAM, Hotel Lemon Tree Premier
Bengaluru RAM, Hotel Courtyard Marriot
Hyderabad RAM,Hotel Marigold Greenpark
Pune RAM, HoteL Ginger Pune
Chennai RAM, Hotel Howard Plaza
Kolkata RAM ,Hotel Trincas
Tarang
Tarang – Organizing Talks with alumni on regular basis with students to bring in industry perspective to their knowledge repository.Tarang 2017 is scheduled in the month of September this year.
Induction Session
Induction Session is organized during "Abhisanskaran"-Orientation Program of first year students.It is organized during 2 week of June every year. Alumni from various industry share their experiences about their life at IIM Mumbai as well as in industry they are connected to.
This year it was organized on 15th June 2017 at IIM Mumbai, Mumbai.The following alumni graced the occasion with their presence
Ms.Swarna Murthy 2012 PGDIE Manager Demand Planning at Godrej Consumer Products Limited
Mr.Amit Mishra 2015 PGDIM Co-Founder & CEO Quifers
Mr.Nishant Choudhary 2015 PGDIM Manager - Format Strategy at Future Group
Committee Structure
Total Strength of committee: 20 each from Senior and Junior Batches.
Chief Coordinator: IM: Rubin Deshbratar, IE: Gurpreet Singh Walia
Treasurer: IM:Tejas Agarwal, IE:Kartikey Pandey
Coordinators (Class of 2018)
IM Coordinators: Aayush Tripathi, Ashish Verma, Devashish Rnjan, Nishant Gawande, Sanchi Sharma, Saomyadeep Choudhary
IE Coordinators: Prakhar Srivastava, Saloni Arora, Shalini Gupta
ISEM Coordinators: Anshul Mishra, Yash Vadodria
PM Coordinators: Abhishek Kumar
MM Coordinators: Abhishek Chilvuri
IIM Mumbai Alumni Association(NAA) Executive Committee Members